Can you believe it is pretty much July? I have had 3 glorious weeks of summer and I am still cringing at the thought of moving classrooms in August. Some of you may remember that I moved campuses (my choice) in August of last year, and now I am changing rooms on that same campus. I didn't realize I was changing rooms until after I had packed away every. single. thing. into the cabinets in my old classroom. Oh well. Such is life!
I know that some schools go back as early as mid-July, so I wanted to do something special for the month of July ONLY! Remember when I put a
bundle on Teachers Pay Teachers
last summer that gave you access to every item in my store including future updates? Well, if you purchased each individual item from my store, it would total over $320!
For the next 31 days, it will be on sale for $99! After that, it will no longer be available for sale. I will convert it to a bundle that will not include future updates for free, and all future products for the 2014-2015 school year that I create will be available in a new bundle. Take advantage of this unique opportunity for the month of July ONLY!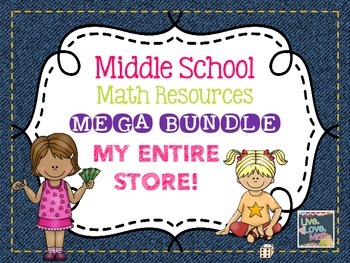 Just click the image above to go straight to the product listing.
Feel free to ask me any questions before purchasing, and happy shopping!