I don't know what has gotten into me, frankly. I am a blogging machine. Three posts three days in a row! I should probably go take my temperature.
I am so excited that I have my first "seasonal" product in my store! AND...it is free! I wanted to make something that could be used this time of year and I know that in my district, we will have just finished our percents unit in 7th and 8th grade, and this would be a nice little activity. I don't think it would take my kids more than 20-25 minutes to do, and because of the nature of the problems, I would only have to check the last answer!
Each problem builds on the previous answer. This means that the answer from number 1 is used to solve number 2 and so on...In the end, they can only get number 8 correct if they get all other questions correct. Of course, I will check their work as well, but at a quick glance I can see if they were on track or even close!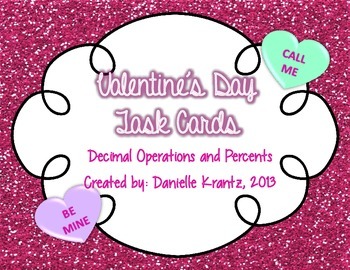 Click on the image to grab your very own copy of my Valentine's Day task cards!
Be sure to follow my shop so that you can be notified when I upload more seasonal activities!